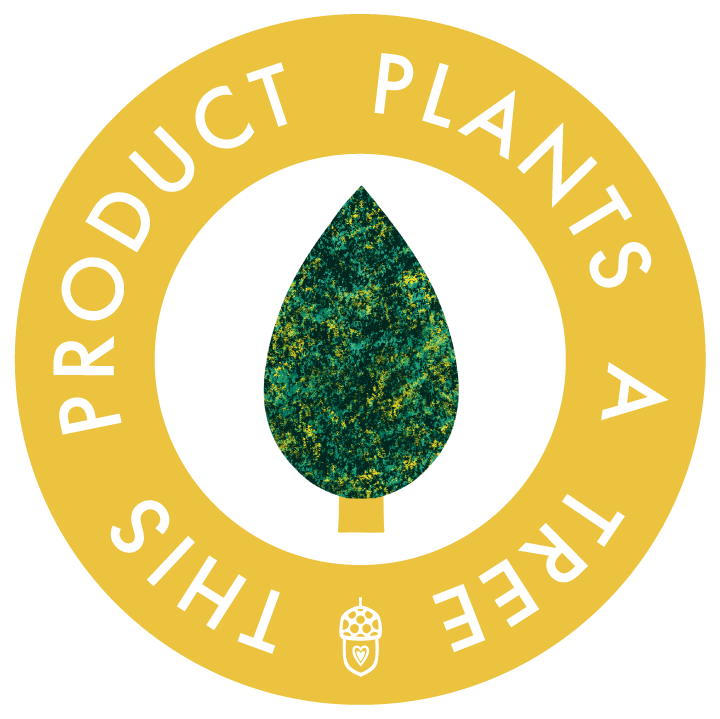 EACH PRODUCT PLANTS A TREE
To help offset some of our environmental impact we will be planting a tree for each product or commission bought on our Etsy store or by bank transfer.
We can send you an e-certificate of your newly planted tree if you would like us to, just let us know the email address to send it to when you place your order. 
Rather than select a specific region of the world to plant trees, we ask the non-profit organisation we work with to plant the trees wherever they are most needed in the world. However, if you do have a specific country request, we can check to see if a planting project is currently running there and we can plant your tree there instead. Just send us a message at
inkyacorndesigns@gmail.com
.
For wedding stationery orders, we will plant one tree per design/product type. For example, if you buy invitations, RSVP cards and envelope liners this will count as three designs/product type, so we will plant three trees for you. If you just buy invitations, this will count as one design/product type, so we will plant one tree for you. 
For our paper products (wedding stationery & prints) we work with two different printing partners, one for our giclée prints and another for our wedding stationery. For our tote bags and enamel mugs, we work with an additional printer. We work with different printers to ensure we get the very best quality for that particular product. We are currently working with our paper product printers to see how we can ensure totally recyclable packaging in the future as they still have a little way to go to be 100% sustainable. 
We currently send your order to our printing partners to ship directly to you instead of holding the stock ourselves as it avoids print wastage and minimises the amount of travel each order takes. 
We'd like to be as open an honest about the sustainability of our products so we've included a little bit of information about the materials and processes our printing partners use below. 
Paper: G
iclée prints are on 100% acid free 315gsm natural coloured soft textured cotton paper. The paper and printing method is
accredited by the Fine Art Guild to have archival quality for 85 years so should last a lifetime and not fade with time like non giclée prints can.  
Packaging: Recyclable brown cardboard envelope with 2.5mm MDF board to stop prints from bending. 
Wedding stationery printing:
Our printer operates a zero to landfill site. 95% of their waste is manufactured back into their recycled products and 5% is converted into Refuse Derived Fuel. 
Paper: The paper used depends on what the client would like to use. Our printers have a range of eco-friendly papers to choose from and any leftover paper trimmings from the printing process are all recycled. For sign board (welcome signs, table plans and order of the day) the client has the option of switching to 100% plastic free eco-board if they do not intend to keep their signs as a momento after their big day. 
Packaging: Paper products are planed on recycled cardboard and wrapped in clear plastic wrap to protect them from the elements and then covered in a cardboard box. The tape used is 100% recycled kraft paper tape. Sign boards are covered in bubble wrap, foam corners and thick cardboard with paper parcel tape. 
ENAMEL MUGS & TOTE BAG PRINTING
Our printer does not use plastic in any of the orders they ship. They also recycle all their cardboard and paper waste, pay all their staff above the living wage, use
OEKO-TEX
approved water based inks and carbon offset by planting trees in the UK. 
Tote bags: Are made from 407gsm 100% Organic brushed cotton canvas which is
Control Union
certified and are fully manufactured in the UK. 
Enamel mugs: Are 11oz and hand-enamelled (so maintain their unique quirkyness!). To ensure they last as long as possible they should only be hand washed, dried up properly and kept away from open flames. 
Packaging: Plastic free and totally recyclable. 
If you are ever unhappy with the packaging your product is delivered to you in, please let us know.